Help Save Lives in Israel!
UPDATE!
A generous JMA supporter has agreed to match our donations made through 12/31/23!
---
Important - JMA Donations to save lives in Israel
We have all seen and have been deeply impacted by the horrific events that have taken place in Israel. All of us are asking, what can I do?
On October 15th some of the JMA Board and other JMA members met ad hoc and agreed to raise funds with the Rep Council approval, agreed on Sunday, October 22nd, for a worthwhile cause that helps support all Israelis, provides essential medical services and demonstrates our sprit of motorcycle community. JMA will be supporting Magan David Adom, Israelís national emergency medical, disaster, ambulance and blood bank service.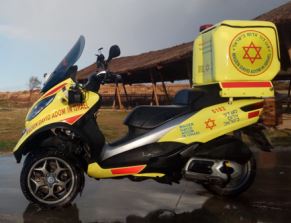 Medicycles are assigned to specific MDA certified EMTís and are modified to provide first response to medical situations throughout Israel. Medicycles can cut through traffic and navigate narrow alleyways in Israelís older cities, getting to locations in need more quickly. Wherever there is a medical emergency in Israel, MDAís Medicycle will get there. American Friends of Magan David Adom afmd.org and Magen David Adom for Israel cmdai.org are the contacts for US donations and Canadian donations respectively. Our goal is to raise $36,000 for a Medicycle complete with medical equipment so we can provide meaningful assistance to the State of Israel and its citizens.
The JMA Board asks Reps and club members to participate by donating to this fundraising campaign.
Instructions on how to donate
U.S. RESIDENTS:
Click on this link and donate: https://afmda.securesweet.com/jma
CANADIAN RESIDENTS:
Click on this link and donate: https://bit.ly/jmamda
Please note we realize that the R2R is our major fundraising campaign. It is not our intention to combine or commingle these efforts. This is a separate effort. We intend to conclude this fundraising effort before the end of the year giving us approximately ten weeks to conduct this campaign and not interfere with the Toronto R2R which is shaping up to be a great event.